IdealConcepts.com hasn't been updated since its most recent launch a dozen years ago. Our main goal during this redesign process was to create a more useful, user-friendly, and informational resource for all our partners: carriers, employees, agents, and potential employee candidates. Specifically, we wanted visitors to be able to access valuable information easily and quickly about our mission, core values, achievements, solutions, and company goals.
Ideal Concepts president John Pequeno recently took the time to thank all the supporting teams at a recent website launch party in Allentown, PA. He had this to say to each contributor:
"I want to acknowledge the many team members who have worked tirelessly over the past few years to bring the new website to life: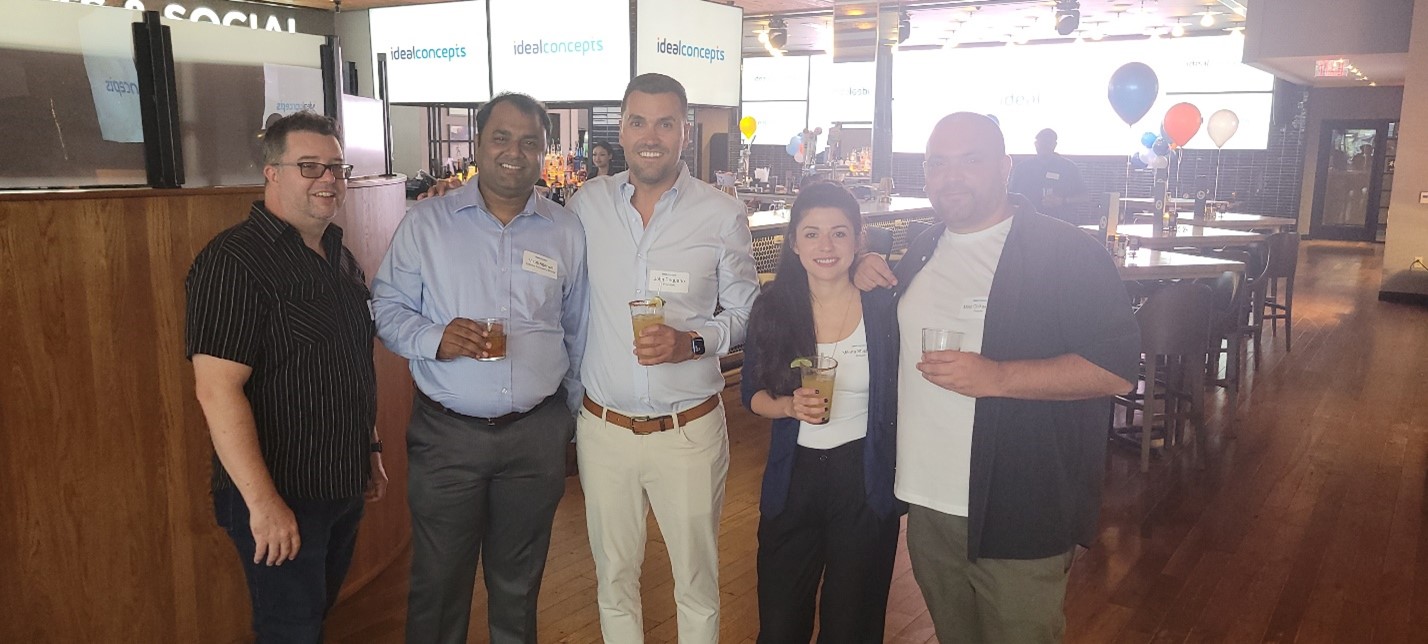 Despark – We were lucky enough to have the Mitko and Milena, the Creative Director and Lead Developer from the design company responsible for our new brand and website, Despark! This is just one sixth of their team members involved in this project! They were involved in some of the most significant parts of the project, with Mitko personally creating every illustration you see on the website, which totals around one hundred, and Milena being responsible for much of the front-end code that makes it so smooth! We are very thankful for all of the Despark team members involved in this project over the past few years and look forward to our next project with them which has been underway concurrently since January, the new InsureMe brand and website!
Todd Butcher – Todd was integral to the creation of our new brand and website. He's spent the better part of his time at Ideal Concepts working on this website, and many of the innovative and creative ideas you'll find on the site came directly from his mind! Todd was also gracious enough to handle many tasks that did not fall to any specific team member (coordinating video testimonials, coordinating and reviewing content, etc).
Aaron Peters – Aaron worked on this project from day zero to completion! He handled the creation of all wireframes and requirement specs, and website structure planning. This provided the skeleton of what Despark needed to actually create the design! Aaron also helped interface our company with Despark, to make sure all communication / dependencies were accounted for and assisted with ideation / creative thinking for the website.
Alisha Leavelle – Alisha is a perfectionist as a writer and wrote virtually all copy (content) on the website! Asking someone to write almost one hundred pages of copy is a big ask, and as usual Alisha delivered at a stellar level! Of course, she already searched for and found some small issues post release and is coordinating getting those addressed over the next 1 to 2 weeks.
Alex Liebergall – Alex performed a variety of compliance reviews for the website, and also built our Privacy Statement and Terms of Use… give those a read for a fun night! This work ensures we as a company are protected against potential liability to the maximum extent possible.
Vikas Agarwal – Vikas and team worked diligently to make sure the site was launched very quickly after the design phase was complete. Our software team had the hard requirement of taking the delivered website design/frond end code and wiring it up with backend code/database driven structure within 6 weeks of handoff (this is a very tight timeframe)! There was no leeway for delay, as we had our launch party scheduled 2 months prior, and as usual our engineering team delivered on goal! They will be wrapping up a number of items on the website over the coming few weeks.
Grigory Evropeytsev – Grigory was the lead on this project for our Software Engineering team, and also personally did a significant amount of the software development himself! Grigory embodies a player coach leader, making sure he is working alongside those individuals he leads. Grigory is very much the reason we were able to turn around our back-end development in a month and a half, to hit this difficult fixed launch date!
Timothy Ivins – Tim handled database structure, planning, and related coding. Basically, Tim made sure the website delivers the information you request of it for every page, module, and section! Considering the full website is about a 2-hour read, this is no easy task!
Rishit Muthyala – Rishit has been with us a few years, but likely never had such a large project with such a constrained timeline! After 2.5 years of design, we knew we wanted to do the backend development very quickly to finally get this website launched! Rishit worked hard to make sure this happened!
Sumeeti Nangalu – Sumeeti was responsible for performing all functional development quality assurance work for the final delivery on our side. Sumeeti worked tirelessly to do this under a very tight timeframe, to make sure we could successfully launch our website by launch day!
Every department head and other Ideal Concepts leaders – You brought your ideas and expertise to the design teams, provided content, and have helped to make sure our new website is state-of-the-art, beautiful, and functional. Your feedback has been invaluable to the team members working on design and implementation!"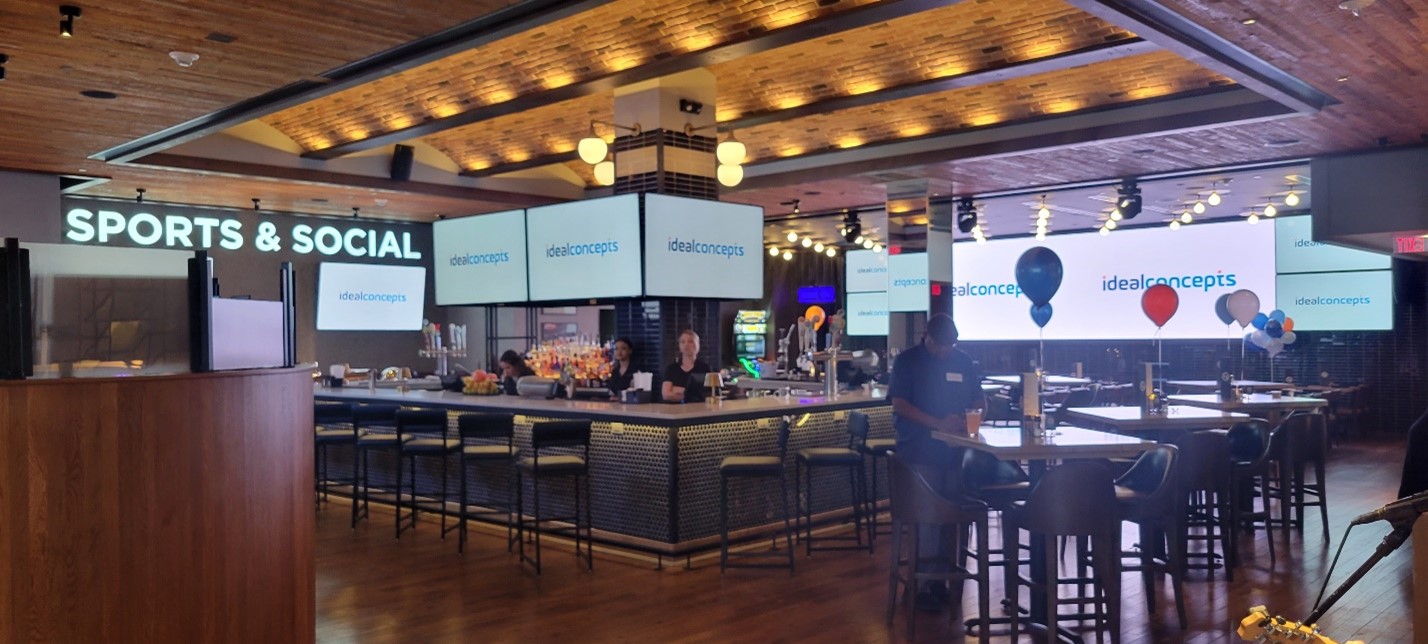 Ideal Concepts' goal with this rebrand and redesign was to showcase our company goals, values, and achievements, and to have a brand and website that aligns with the high quality and innovative work our teams put out on a regular basis. We believe our beautiful, bright, modern, friendly new brand and website does just this!
Be sure to check out our company news page, where you'll find all the latest going-ons at Ideal Concepts. Don't miss out on our Life in the Lehigh Valley page, where you can find a resource of information regarding what it's like to live in the Allentown-Bethlehem-Easton area of Pennsylvania. And of course, our Careers page is definitely a highlight: there you'll find a comprehensive list of all of our departments, teams, and our current open positions!
For more information, visit www.IdealConcepts.com today!